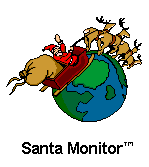 Follow Santa Claus


all around the world!
There were regular updates on Santa's progress throughout the evening. The screen showed a view of his sleigh's cockpit, a count of how many cookies Santa Claus had eaten, and a flight journal of what happened on each part of the trip.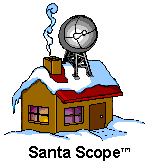 It was exciting to see Santa
approach your house!
Boys and girls all over the world got to see Santa Claus get closer and closer to their very own home. A special treat was the new animated radar screen with their home right in the center. The "Children Awake" warning had lots of children rushing off to bed!